Song Worksheet: Better Together by Jack Johnson [WITH VIDEO]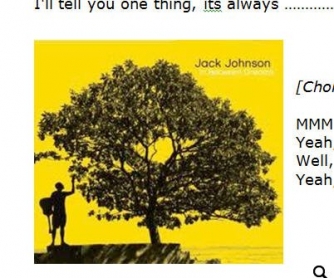 Gap-fill activity, put the lines in order and matching exercises.
Great song and easy, too.
Jack Hody Johnson (born May 18, 1975) is an American folk rock singer-songwriter, surfer and musician known for his work in the soft rock and acoustic genres. In 2001, he achieved commercial success after the release of his debut album, Brushfire Fairytales. He has since released four more albums, a number of EPs and surfing movies/soundtracks. He is also known for organizing an annual event, the Kōkua Festival. He currently has sold 15 million albums worldwide. His highest–selling album is Sing-A-Longs and Lullabies for the Film Curious George, with 4 million albums shipped worldwide, due to the success of the 2006 Curious George film. Notable songs from Johnson's repertoire include "Upside Down"; "Flake"; "Sitting, Waiting, Wishing"; "If I Had Eyes"; "You and Your Heart" and the widely-popular fan favorite, "Better Together".
---