Song Worksheet: Misread by Kings of Convenience [WITH VIDEO]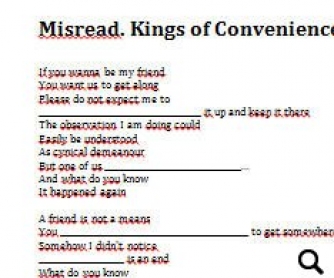 Explain to your students the meaning of 'convenience', and explain a little about the band: they create music that is easy to understand, fit for everyone.
Play the song Misread, ask them to fill the blank spaces, ask them to try and interpret the lyrics.
I suggest you add it up with some explanation on prefixes and suffixes.
Similar Worksheets
---