Song Worksheet "Christmas Lights" by Coldplay (WITH VIDEO)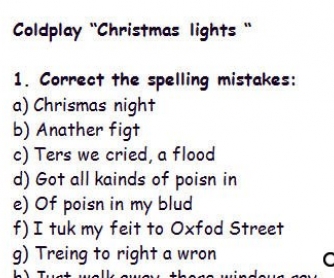 This song worksheet will help to train students' listening comprehension and enrich their vocabulary.
It contains the activity:
- correct the spelling mistakes;
- cross out the wrong words;
- unscramble the sentences;
- orderthe lines;
The worksheet also can be used as a source for training the poetic translation.
It is also provided with the lyrics of the song.
Similar Worksheets
---