<!– google_ad_section_start –>
Nutrition Worksheet: Why Are Vitamins Important?

<!– google_ad_section_end –>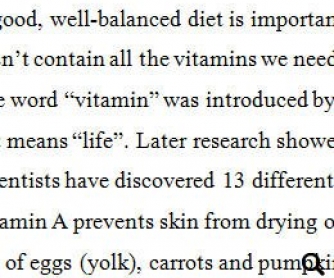 The worksheet presents a text on theimportance of vitamins for our health, the description of the basic vitamin groups and the food where it can be found. The 3 exercise follow the text: finding the opposites to the words from the text, finding the names of food in the grid, and factual review of the text. It can be used for the topic of food and health.
Sample text:
A good, well-balanced diet is important for maintaining good health. We get most vitamins from food. If the food we eat doesn't contain all the vitamins we need, we will probably develop a number of disorders.
The word "vitamin" was introduced by Casimir Funk, a Polish scientist, in 1912. The prefix "vita" comes from Latin and it means "life". Later research showed that Funk was right in recognizing the importance of vitamins for life.
Scientists have discovered 13 different vitamins: A, B group, C, D, E, K etc.
Vitamin A prevents skin from drying out and it helps us see better in the dark. We can find it in fish oil, the yellow part of eggs (yolk), carrots and pumpkins.
Similar Worksheets
---