Song Worksheet: Summer Holidays by Cliff Richard (WITH VIDEO)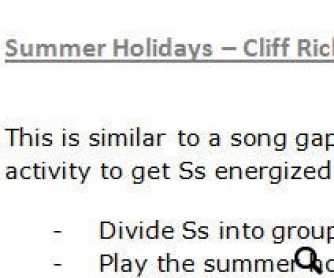 This is similar to a song gap-fill but with a twist. It can get quite competitive and it`s a good activity to get Ss energized.
- Divide Ss into groups of 4 and give each group the word cut-outs.
- Play the summer holidays song on you tube http://www.youtube.com/watch?v=rbNP5yqg7hc
- Ss must take the word when (not before) they hear it.
- The Student with the most words in the group is the winner.


Similar Worksheets
---