Song Worksheet: Father and Son by Cat Stevens (WITH VIDEO)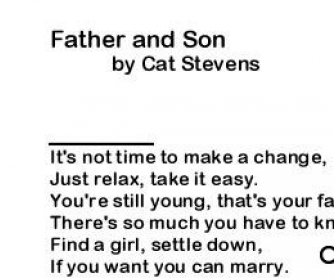 These are tasks for a 60min listening+speaking lesson. Firstly, it is very important to exploit the song as much as possible for the listening purposes. You can even find a vido clip in the Internet and use it for the First listening. Here I provide two listening tasks and in the end have a discussion of "Father and Son" problem.

After that I suggest the students to role-play some other situations in different families. The students work in pairs – a father and a son, they all have different problems and the task is to discuss the problem in the family and try to solve it. I provide role-cards that give psychological portraits, feelings and reasons of the behaviour for each role.

After the discussion of the song, where the reasons of the behaviour could be only guessed and predicted, now the students have some real-life situations, real reasons and they may try to behave as the people in the song. In the second part of the speaking the families go to psychologist, repeat their problems and the psychologist helps them to solve it. To get the psychologists I separate one pair, give the students different role card and put them in groups of three. After that I provide feedback on the context – discuss the possible solutions of the situations, and feedback on grammar – delayed correction of the mistakes.
Similar Worksheets
---