<!– google_ad_section_start –>
Warmer: Name As Many...

<!– google_ad_section_end –>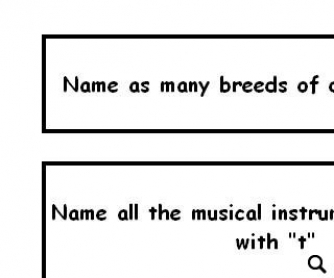 This 'Name As Many ... as possible' activity works very well as a warmer to start a lesson - hand out the cards to the teams or individual students and have them compete (orally if used with Intermediate or Upper Intermediate, or using a dictionary with used with lover levels). You're welcome to share your own way to use this!
The worksheet contains 13 cards with questions like 'Name 5 body parts above the neck that have 3 letters' or 'Name the continents in alphabetical order', or 'Name as many languages as you can'.
Have fun!
Hey, how do I download it?
This is a warmer, and there is nothing to download. It's just an idea for your lesson, not a worksheet.
Know a great warmer or a lesson idea?
Share it!
Similar Worksheets
---