<!– google_ad_section_start –>
Fire! Fire Activities

<!– google_ad_section_end –>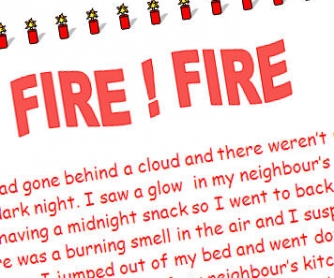 It's a real story that deals with a person who saved his neighbour's house from from fire.
Extract:
'The moon had gone behind a cloud and there weren't many stars in the sky. It was dark night. I saw a glow in my neighbour's kitchen. I thought he was having a midnight snack so I went to back to my bed.
Soon, there was a burning smell in the air and I suspected something...'
From Admin: unfortunately, the user who submitted this worksheet seems to have forgotten to provide the actual text - the worksheet contains only the activities for it.
Similar Worksheets
---