<!– google_ad_section_start –>
Infinitive or Gerund?

<!– google_ad_section_end –>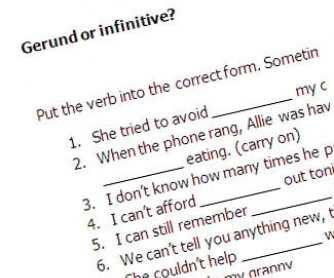 An exercise to check the knowledge on the usage of simple infinitive vs gerund.
Example:
Put the verb into the correct form. Sometimes either is possible.
1. She tried to avoid __________ my question. (answer)
2. When the phone rang, Allie was having lunch. She didn't answer the phone, she __________ eating. (carry on).
Similar Worksheets
---