<!– google_ad_section_start –>
Favorite Celebrity

<!– google_ad_section_end –>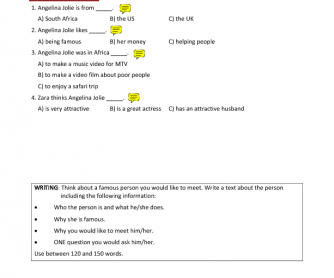 This is an integrated listening and writing exercise. The students listen to an interview and answer a few mutiple-choice questions while listening. The audio is embedded into the document and there is also a transcrips for flexibility. The transcript can be used in several ways:
1. Delete the questions and ask the students to guess them. Then, listen and check.
2. Highlight some important collocations.
3. Focus on what the speaker talks about.
4. Focus on pronunciation and intonation.
5. etc., etc.
At the end, the students are asked to write a text about their favorite celebrity.
Enjoy (and comment).
Similar Worksheets
---