by Claudia Pesce
79,355 views
"Social media is a big part of my students' lives. They're always checking Facebook updates or Tweeting to each other inside and outside the classroom. So the big question is: should I use social media in my classroom and if so, how?" *
When I started teaching over 20 years ago, students did not have cell phones. A few, mostly doctors, had beepers and pagers. Gradually, pagers gave way to cell phones, and suddenly it was not only the doctors who had them, most students had cell phones. They became increasingly popular – and annoying. The beeping was replaced by the incessant ringing. Soon enough, a "no cell phone in class" rule had to be put into effect. Years later, the beeping returned. Students were no longer getting calls; they were getting notifications. Message notifications, Facebook notifications – every kind of notification imaginable. And I became increasingly annoyed.

The Dawning of a New Era
For over ten years, cell phones were turned off during my classes. But as technology evolves, so do we.
For over ten years, cell phones were turned off during my classes. But as technology evolves, so do we. We grow accustomed to a new form of literacy. We learn to communicate through different media. What was once "unnatural" becomes second nature. Social media may still be annoying to some, but it certainly has its use in the ESL classroom – and its disadvantages. Let's consider both sides of the social media coin.

Advantages of Using Social Media in the ESL Classroom
Social media engages students. It encourages participation as students have the chance to express themselves through media they feel comfortable using.

Social media enhances student collaboration.

Students can easily interact and share information, work together on projects, and communicate freely and easily.
Social media allows the teacher to share resources like images, worksheets and websites effortlessly and effectively.
Social media has tremendous potential for creative and engaging homework tasks.
Social media helps keep parents and family members "in the loop". Teachers may reach out to parents with comments, feedback and suggestions. Groups may share class activities, post photos and publish their work online.

Disadvantages of Using Social Media in the ESL Classroom
It is necessary to supervise student activity, and monitor comments and posts for inappropriate content, remarks or even cyber bullying.
Social media can be a huge distraction. Students may stray from the tasks at hand and use social networking sites for personal interactions or to play online games, for example.
Social media relies more heavily on written, rather than spoken, interactions. Students' ability to interact face to face may be affected.
Let's suppose you're determined to incorporate social media into your ESL classes. Let's address the "how".

Here's How You Can Use Social Media in Your ESL Classroom
click to enlarge the infographic: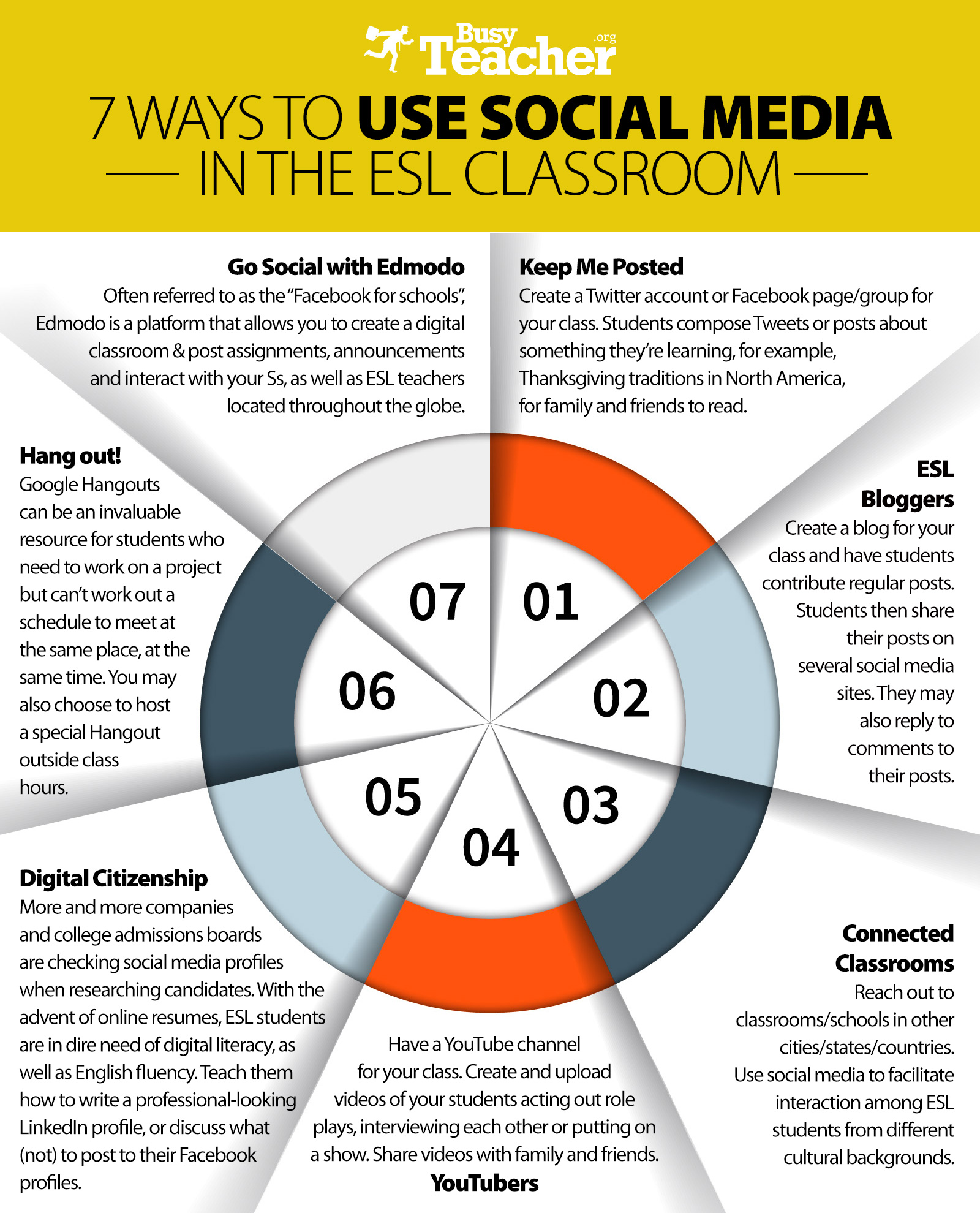 1

Keep Me Posted

Create a Twitter account or Facebook page/group for your class. Students compose Tweets or posts about something they're learning, for example, Thanksgiving traditions in North America, for family and friends to read.

2

ESL Bloggers

Create a blog for your class and have students contribute regular posts. Students then share their posts on several social media sites. They may also reply to comments to their posts.

3

Connected Classrooms

Reach out to classrooms/schools in other cities/states/countries. Use social media to facilitate interaction among ESL students from different cultural backgrounds.

4

YouTubers

Have a YouTube channel for your class. Create and upload videos of your students acting out role plays, interviewing each other or putting on a show. Share videos with family and friends.

5

Digital Citizenship

More and more companies and college admissions boards are checking social media profiles when researching candidates. With the advent of online resumes, ESL students are in dire need of digital literacy, as well as English fluency. Teach ESL students how to write a professional-looking LinkedIn profile, or discuss what to post and what not to post to their Facebook profiles.

6

Hang out!

Google Hangouts can be an invaluable resource for students who need to work on a project but can't work out a schedule to meet at the same place, at the same time. You may also choose to host a special Hangout outside class hours.

7

Go Social with Edmodo

If you'd rather not use Facebook or other popular social media sites, Edmodo is an excellent alternative. Often referred to as the "Facebook for schools", Edmodo is basically a social media platform that allows you to create a digital classroom where you can post assignments, announcements and interact with your students, as well as ESL teachers located throughout the globe. If you haven't tried Edmodo yet, I highly recommend you check it out.

No Social Media Skills? No Problem.
Some teachers are reluctant to use social media in the classroom because they are not comfortable using it themselves. How can you use social media responsibly when you can barely handle the basics? This should not be an excuse. There are any number of resources and free online courses resources for social media beginners. Check out, for example, this handy Teacher's Guide to Twitter or this really useful Teacher's Guide to Pinterest.
Social media is here to stay. You can ignore it or embrace it – the choice is yours. It can be a distraction, but it doesn't have to be – not if you don't let it become one. It's simply another great tool you can use in your ESL classroom to make your classes more engaging. By sharing through social media, your classroom's boundaries are extended so you can include family and friends on your students' journey.
Do you agree we should use social media in the ESL classroom?
Then, click on the social media buttons below and share!
* This question was sent in from a real ESL teacher, just like you! If you need any advice on a particular topic, share your question in the comments below. Or tweet your question to @busyteacher_org with the hashtag #ESLTeachersAsk. Your question might get picked and featured in an article!
P.S. If you enjoyed this article, please help spread it by clicking one of those sharing buttons below. And if you are interested in more, you should follow our Facebook page where we share more about creative, non-boring ways to teach English.