Song Worksheet: When I'm Gone (the Cup Song)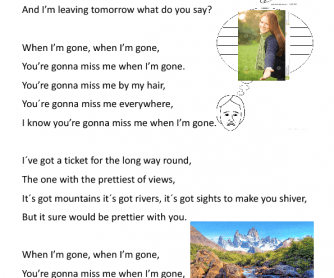 This is a lyrics sheet to help children learn the cup song as a fun activity that also helps children with team-building skills and listening to instructions. The lyric sheet includes visual images to help describe difficult word. The second page is a gap-filling activity to check they have learned it.
Example of the cup song as a school project: Tutorial of how to do the cup song: NB. I changed the line "two bottles of whiskey for the way" to "you can come with me all the way".
Similar Worksheets
---