<!– google_ad_section_start –>
Love Problems: Intermediate Worksheet

<!– google_ad_section_end –>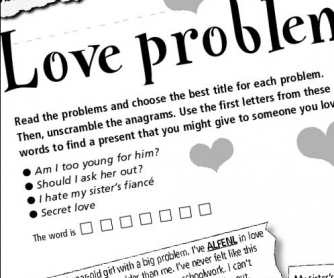 Read the problems and choose the best title for each problem.
Then, unscramble the anagrams. Use the first letter from these words to find a present that you might give to someone you love.
Answers (from top to bottom):
-Am I too young for him?
-fallen
-little
-over
-I hate my sister's fiance
-well
-Should I ask her out?
-easy
-Secret love
-relationship
-selfish
Similar Worksheets
---