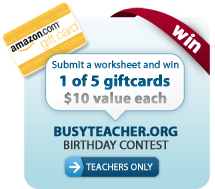 Several weeks ago we launched a Worksheet Contest where everyone could enter to win one of five Amazon.com giftcards by simply sharing his/her own teaching worksheet with our community.


Around 30 teachers from around the world participated, and now it's time to announce the LUCKY WINNERS!...
The following users participated and shared their printable worksheets with us:
213mpt
aka_ m
neomich
sunshine74
ludmoin
lethesse
soulpmi
x_spacegirl_x
anisteacher
marinaRR
gess
dublinro
Oleluya
bluestocking
kolen72
ilhanteacher
maoopa
cynwilkinson
Mr Ping
rabiejka
appas68
loty
teacherofenglish
larondine
muhamedr
KattyKate
abujaga
tefltunes.com
paufran
serdalemu
We have randonly selected 5 of them, and....
THE LUCKY WINNERS ARE:
marinaRR

dublinro

ilhanteacher

teacherofenglish

KattyKate
Each of them will receive an Amazon.com $10 giftcard from us - congratulations and thank you for your participation!
Stay with us - we'll be launching another exciting contest shortly: Article CONTEST - with bigger and better prizes!