123ContactForm: BusyTeacher's Detailed Review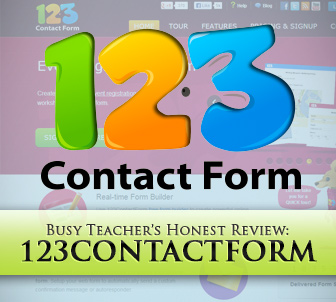 What can 123ContactForm do for busy teachers?
Well, I've tried it, so read on to get the whole scoop!
Example: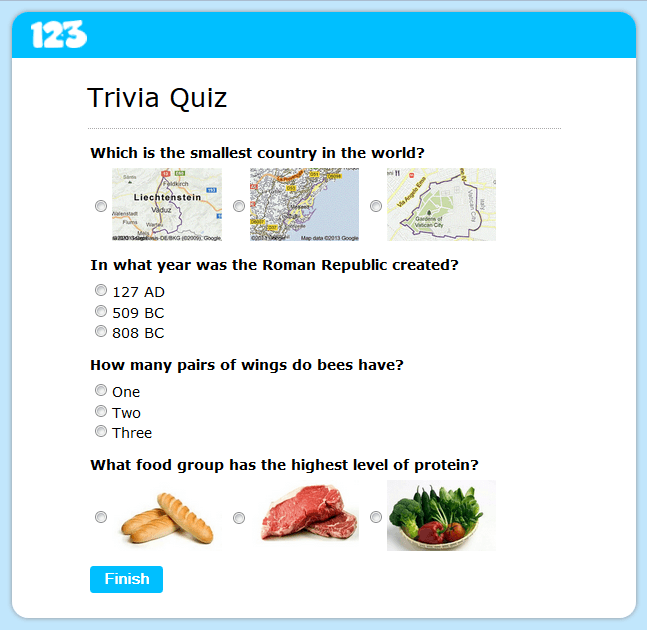 The Overview
123ContactForm is basically a real-time online form builder.
123ContactForm is basically a real-time online form builder. It allows users to create all kinds of web forms, from online surveys to registration forms. Each form is created by simply dragging and dropping fields – no programming skills required! Every time someone completes one of your forms online, an email notification is sent directly to your inbox, giving you instant access to their information.
When you take the tour you see that the website claims that you can "Create your contact forms, order forms, event registration forms, online surveys and any other types of web forms as easy as 1-2-3!" So what about the types of online forms ESL teachers would be interested in? Don't be fooled by all the templates for "business" forms. There are forms you can create for your ESL class, and I'll get to that shortly.

The Low Down
You can go to their website and sign up for an account absolutely free of charge. There are, in fact, three types of plans: the Basic is free, but gives you a limited number of forms and submissions you can store in your account; the Gold version is affordable and gives you a higher limit of forms and submissions; finally, the Platinum version gives you an unlimited number of forms and up to 20,000 submissions a month. When you see the complete list of what you get with each version, it's easy to surmise that the Basic or Gold are okay for a teacher or single user, and the Platinum is perfect for schools (up to 5 users have access to the account).
Sign up for the free Basic account, and you're taken directly to your dashboard. Now, you'll see most of the templates and forms available are not very useful for ESL teachers. In my opinion, and after having tried several options, the best feature for ESL teachers available at 123ContactForm is the "Blank Form". Select this type of form, and you can basically create multiple-choice quizzes and tests, or exercises with open-ended responses. Here is an example of a short multiple-choice quiz I created so you can see what it looks like; and here's a mini-test with open-ended responses.
The creation of the form itself is pretty straightforward – once you get the hang of it. The first form will probably take you longer. The Form Editor has one tab that you use to drag and drop the fields you want to include in your form. Teachers can use the basic fields to create the multiple-choice questions or add the Text Box/Area where students will enter their text responses. Then, there is another tab that allows you to edit each of the fields. For example, if you chose multiple-choice fields, this is where you edit your questions and add each of the choices (you're given three, but you can add as many as you like!); under Advanced Options you can choose the correct answer.
Next, you go to Form Settings and you can confirm which email the submissions will be sent to. Finally, you're ready to Publish your form. You're given a URL you can easily send to your students via email or HTML link you can embed in a webpage (your class blog, for example). And voila! Your online quiz is complete!
Students click on the links and complete the forms, and they're instantly sent to your inbox. If you created a multiple-choice quiz and chose the correct answers under the Advanced Options, you will receive an email for each submission with your students' answers and the percentage of correct responses. It's that simple. But it doesn't end there. If you go back to your dashboard, you will see the statistics for each of your forms, including the number of submissions for each.

Pros
1

An extremely versatile tool

It not only allows you to create a variety of forms (online education forms, educator forms, education quizzes), with fields you can organize to your liking, but also gives you several ways to share them. Give your students online access to the link or print out your quiz as a PDF.

2

Enable payments

You have the option to enable payments within forms. This is particularly useful for school administrators, as they can receive registration forms and online payments effortlessly. Teachers who teach private students may also take advantage of this option and have complete access to their students' records and online payments.

3

Statistics and Graphs

Teachers may see the statistics for each of their forms, generate reports and export the info to Excel or PDF.

4

Looks Very Pro

There are tons of online quiz makers available for free, but few look as professional as the ones you create with 123ContactForm.

Cons
1

Not Made for Teachers

The site is not specifically targeted to teachers. Now this does not mean that teachers can't use it. We can create beautiful forms, but we must basically stick to the use of the Blank Form. Most of the ready-made templates are not very useful to us, unless you happen to be a school administrator or a teacher who manages several private students on his/her own. It has the look and feel of a site for businesses, not schools or teachers.

2

Not as Intuitive as Other Online Quiz Makers

Creating your first quiz can be a bit daunting at first. You will finally get there, but it may take a great deal of trial and error. The good thing is that any of the forms can be modified later, so if you're not happy with the results, you can always change it.

3

Basic Version is Very Limited

You can only create five forms with your free Basic account. That means that soon enough you'll have to start deleting quizzes to make room for more, and you'll lose the data related to those. Teachers are notoriously underpaid so a free Basic version with more options would be more attractive. However, they do offer all teachers a 35% discount on all Premium plans and 30 days money back guarantee, so there is really no risk in trying the advanced features.

The Bottom Line
Once you get past the initial confusion of "I have no idea what I'm doing here", there is a lot you can do with this site. Most online quiz makers let you create one type of quiz (usually multiple-choice), so what I like best about this site is that you can include different types of exercises within one single long quiz, for example multiple-choice and open-ended responses.
Be sure to check out the samples I created for a multiple-choice quiz and an exercise with open-ended responses. See for yourself! Sign up for a free account, and let us know what you think in the comments below!
We post stuff just like this every day on Facebook.
Like us. You won't regret it.
Rate this article:
was this article helpful?