<!– google_ad_section_start –>
Follow Simple Instructions: Tick, Circle, Underline etc.

<!– google_ad_section_end –>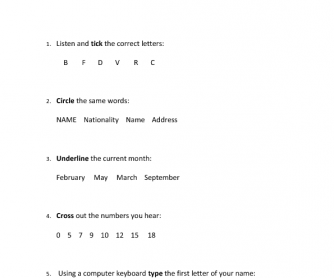 Worksheet - students have to follow simple instructions tasks, for eg.
tick, circle, cross, or underline the correct answer, type the first letter of their names etc. They have to choose the correct answer and use one of the instructions tasks mentioned above.
This worksheet can be used as an assessment task for Elementary Level students.

Similar Worksheets
---