Movie Worksheet: Mind Your Language S01E1 [Part One] - The First Lesson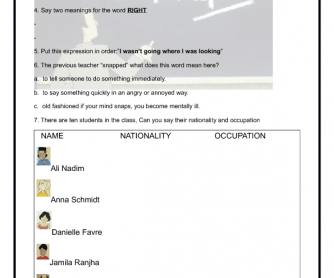 Questions and vocabulary about the video. Listening Comprehension, questions students have to answer related with the video and an exercise on the vocabulary used with its defenitions.
Students can learn how to introduced themselves, how to ask for someone's profession, getting personal information. You learn different languages and nationalities. Gives the chance for extra work where the students can introduce themselves...

Similar Worksheets
---