Mamma Mia Trailer Worksheet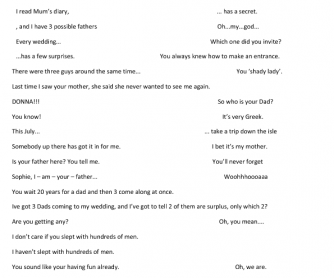 For this lesson I made a tape script for the official trailer for the musical film, Mamma Mia. Attached is a worksheet with missing blank spaces for a listening activity.
I usually play trailers twice, the first time they watch and listen then answer a few questions such as: What type of film is it, where is it set, would you be interested to see this, why or why not.
After the activity, it is good for the students to follow up with writing a short script or plot, as to how they think the story unfolds.

Following is the trailer I used...
Similar Worksheets
---