Cartoon Worksheet: Paperman [for St.Valentine's Day]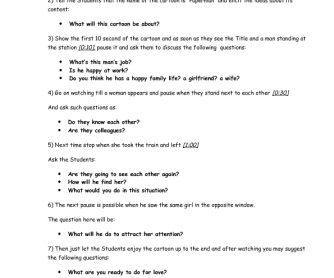 It's a lovely 6 minute cartoon about love at first sight.
It can be watched and used almost with all levels as it's a silent cartoon.
As for the discussion it can be changed a bit according to your Ss level or age. This cartoon created by John Kahrs was nominated for Oscar in 2013 and has got more than 3 mln views on youtube for a couple of days. Here's a wikipedia link about the plot http://en.wikipedia.org/wiki/Paperman
Enjoy!
Similar Worksheets
---