Song Worksheet: Firework by Katy Perry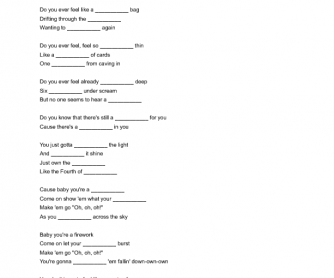 A fun practice for listening with a purpose. Students fill the gaps with words they hear from the song. Repeat the song 3 times.
The worksheet covers 1:50 min of the song only. Thus, students are encouraged to listen to the rest.
My students loved it and enjoyed it, for it's quick-paced and meaningful.

P.S. An answer key is available.
Similar Worksheets
---