<!– google_ad_section_start –>
Conclusions Worksheet: That Must Be, Have to, Don't Have to

<!– google_ad_section_end –>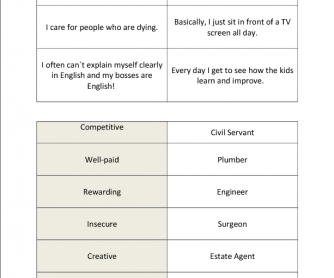 Intermediate Level. To practice coming to conclusions: "must be" and using "have to, don't have to" in the context of jobs.
1. Cut up the jobs and the adjectives and put them in separate columns on the table. Have the students match the adjective to the job.
2. Use the ¨scenario¨ cards eg. I´m the sales representative of Europe..., to have the students practice ¨That must be or must have to be.¨ Eg. That must be stressful or you must have to be creative.
3. Use the jobs cards to have the students talk about what this person ¨has to or doesn´t have to do¨ in their job. Then have them talk about their own jobs.
Similar Worksheets
---