<!– google_ad_section_start –>
Make a Sentence!

<!– google_ad_section_end –>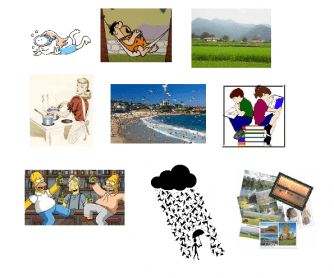 A simple worksheet containing a set of 30 images to be used as a warmer or filler. Cut the pictures into cards. Ss put them face down. Then they take turns and according to their level, they can...

1) simply say what they can see or find a suitable phrase (a picture with a handshake can associate with "Nice to meet you" or "See you later, etc.)
2) make a sentence connected with the picture within 5 or 10 seconds - make it a contest;
3) make a question about the situation (example: Do you like cooking?);
4) describe the situation (with present continuous: There is a man sitting in a restaurant.);
5) make a conditional clause based on the picture (example: a picutre of the sunny sky: If it's sunny tomorrow, I'll go swimming.)
...and so on!
Similar Worksheets
---