Song Worksheet: Summer of '69 by Bryan Adams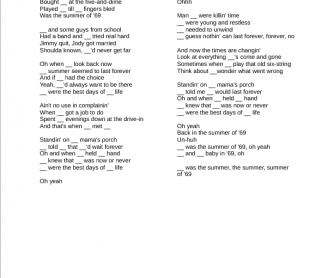 This worksheet is based on types of pronouns. It is advisable that basic types of pronouns are first discussed in class before moving on to the worksheet. Also, the song could be played once in class if a lot of them have not heard it before. This depends on the students.
Once the activity is done, the teacher could ask for a sing-along to revise the pronouns. This way the students will never forget the pronouns. I did this with college students in their first year and it was a hit!
Happy to help!

Similar Worksheets
---