<!– google_ad_section_start –>
Song Worksheet: Masterpiece by Madonna [Alternative]

<!– google_ad_section_end –>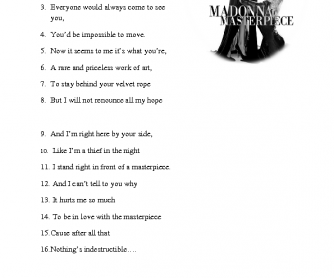 Use this song to talk with your students about "masterpieces" in our life and to practice the 2nd type of conditional sentences. For the lesson you need 2 types of the song: the instrumental one and the original one. Before the listening you can discuss these questions:- What type of music do you like?
- Listen to this instrumental type of music (find the instrumental version of the song "Masterpiece)
- Is it funny/sad/serious/happy?
- What genre is it?
- Now close your eyes and listen to it one more time. What are you thinking of? What images are in your head?
- What feelings does it arouse?

Similar Worksheets
---