<!� google_ad_section_start �>
Holidays and Leisure Activities Worksheet

<!� google_ad_section_end �>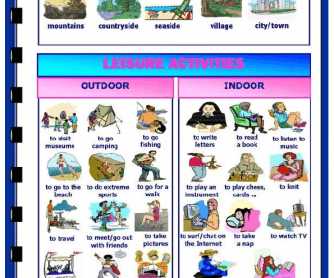 This is a worksheet for teaching future forms with going to, holidays and leisure activities related vocabulary.
The first page is basically just a picture dictionary, which can also be used as a study sheet, with useful vocabulary.
The second page has 2 different activities in which students are asked to complete the sentences with going to form of the verbs in the box and write a small composition about their plans for the next holidays.
Similar Worksheets
---