<!– google_ad_section_start –>Reinforcing Vocabulary & Sentence Making<!– google_ad_section_end –>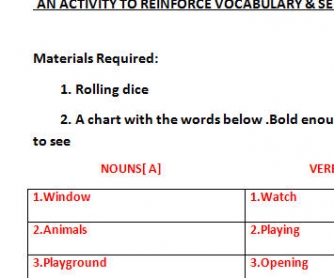 AN ACTIVITY TO REINFORCE VOCABULARY & SENTENCE MAKING

Materials Required:
1. Rolling dice
2. A chart with the words below .Bold enough for the children to see:

NOUNS[ A] VERBS[ B]
1.Window
1.Watch
2.Animals
2.Playing
3.Playground
3.Opening
4.Kite
4.Reading
5.Children
5.Listening
6.Library
6.Studying

The game goes like this:
Teacher calls out a number say 5, The children who are number 5 from both the groups come out and stand on the either side of the chart.
The teacher gives the dice and asks each child to roll the dice individually and remember the number they got on the dice.
For e.g if the child on the left side has got the no 3 on the dice, he/she picks the word 'Crayon' from column A
For e.g if the child from the other side [ right side] has got number 2 on the dice, he/ she picks the word 'Play" from column B.
Each child from the pair has to make one sentence using both these words . Both the sentences have to use the same words but make a different sentence.
For example the 2 sentences could be:
The child is playing with the crayon.
The children are using crayons to play and count.
Any modified form of both the words can be used. When they tell their sentences to the other students, they should say whether the sentence is correct.
The activity continues until all the pairs get to roll the dice and make 2 different sentences.
When I carried out the activity children enjoyed it. I could get a variety of sentences from the children. Some of them made innovative sentences. It also helped the children who were weak in English to participate & enjoy.
Please Note
1. Kindly before starting the activity ask the children which category do these]A& words belong?
2. Next step. Which part of speech do these words belong to?
3. Elicit answers from children.
4. Children should be encouraged to come out with a variety of sentences.
The words can be replaced after all the children have participated. It is good idea to keep a set of words ready for playing next time
VARIATION : Use 2 dice and 12 words
Similar Worksheets
Comments about "Reinforcing Vocabulary & Sentence Making".